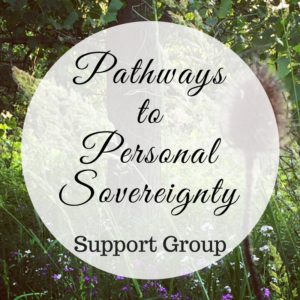 Pathways to Personal Sovereignty is a six week support group about feeling secure and trusting in your self, your decisions and claiming your space in the world. This six week group is open to both men and women and is an opportunity to explore personal sovereignty in a safe and supportive environment. Pathways to Personal Sovereignty is a safe space for self-discovery in which participants learn about themselves, recognize their choices and move toward a state of more fully conscious self determination. Using tools like guided meditations, mindfulness and self compassion exercises, participants will have an opportunity to address the inner critic, improve communication skills and strengthen personal boundaries and increase self acceptance. Engaging in this work to reclaiming personal sovereignty can help ameliorate life challenges such as anxiety, depression, relationship issues, and negative patterns that keep us stuck.
Location:  The Hive and Grove Centre for Wholistic Wellness
226 Frederick Ave, Kitchener, ON
Cost (6 sessions) : $240.00
Space is limited, so register today!
To register or for more information, email Sydney: sydney_bell@me.com
Or call:  519-501-8953
There is a new group starting May 20th.  Contact Sydney for more details. 
Pathways to Personal Sovereignty is facilitated by Sydney Bell, MSW, a Registered Social Worker offering counselling and therapeutic services to support people with a range of life challenges such as depression, anxiety, unhelpful patterns, or relationship and family issues.
Benefits to Group Therapy
Some people find the idea of group therapy uncomfortable. This initial anxiety is quite normal for people who haven't previously engaged in group work and are unsure what to expect. Almost without exception, within a few sessions people get comfortable enough to interact in the group and find them very beneficial for many reason including:
• Groups are a supportive environment. Hearing from others with similar issues helps you see that you're not alone in having challenges.
• Groups can propel you forward. Hearing how other members navigate similar challenges you are facing and make progress can be very encouraging.
• Group therapy costs less than individual counseling.
• Groups teach you about yourself. Through the group experience you have the opportunity to see yourself through the other group member's eyes. This can be very helpful in uncovering blind spots that may be blocking your ability to overcome your issues.