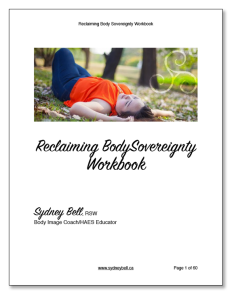 The Reclaiming Body Sovereignty Workbook is a five-part guide to learning about and integrating the elements of Mindfulness, Self Compassion and Discernment into your relationship with your body and your daily life.
The Reclaiming Body Sovereignty Workbook can be helpful for those who are just starting this journey of body acceptance in providing a framework and tools to support your on your journey.  And for those who are already engaged in this work, the workbook provides an opportunity to dig a little deeper and look at things from another perspective and gain more tools for growth.
Here is the how the Workbook is laid out:
Section 1: Introduction and Laying the Ground Work
Section 2: Nurturing Mindfulness
Section 3: Inviting Self Compassion
Section 4: Opening to Discernment
Section 5: Bringing it all Together, Living Body Sovereign
Each section includes an overview of the element, worksheets, exercises and self-reflective questions.  Links to videos and other resources to support your work are also provided.
Purchase the Body Sovereignty Workbook – $10 CAD
Get a copy of your workbook and a link to the pdf file will be emailed to you.
Problems accessing / downloading the file? Please contact me.

Free downloads
Free worksheets – check them out!  A little preview of what you will find in the Reclaiming Body Sovereignty Workbook.